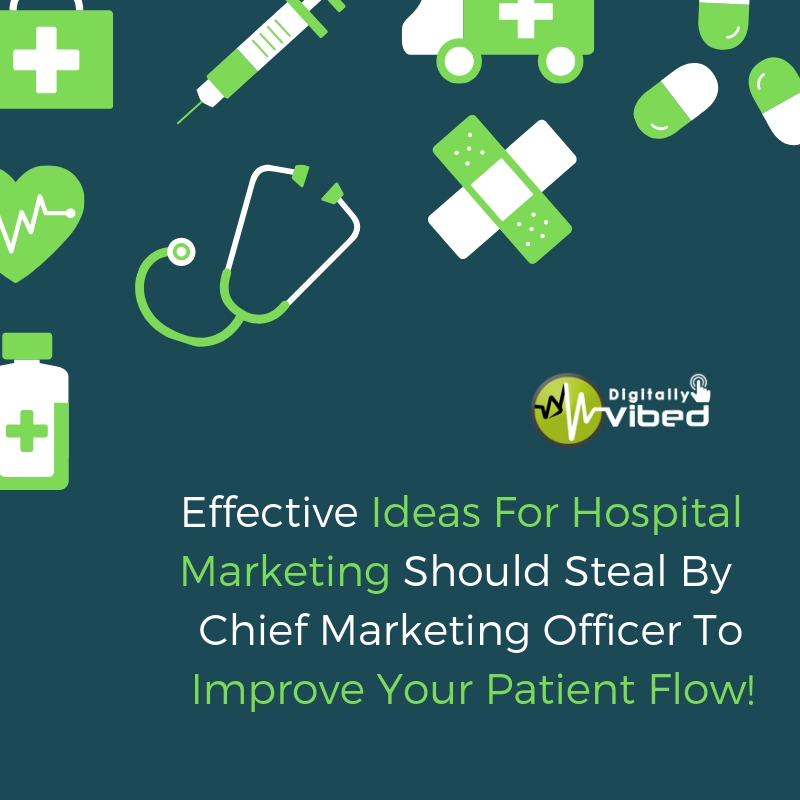 Effective Ideas For Hospital Marketing That Every Chief Marketing Officer Should Steal
Hospital marketing is challenging than any other industry. You can't reach results unlink other industry unless you get credibility and trust. It is important to make your hospital standout from other hospitals by showcasing your success stories and your speciality.
Healthcare industry is highly competitive. In India we have 35,416 government hospitals, You not able to stay top only by providing the best service but also by marketing your service in an effective way.
We should take the measured approach to its marketing strategy.
"To me, marketing and advertising are two different things. We make advertising decisions based on science, analysis and objective data on patient services and utilization. That helps us make sure that when we do promote a service, we are targeting the right audience," says Ms Fontenot.
Let's explore some out of box hospital marketing ideas to improve your patient flow :
Television promotion to showcase your expertise:
Though we have various medium like Facebook, Youtube People keep spending time on television. There is a 7.5% increase in the number of tv owning in 2018.
Here you can grab attention by showcasing your expertise and providing health tips. This will create trust and improve engagement with the audience.
Give your patient wow experience : 
One of the effective marketing strategy is the word of mouth where you can get the best results.
Satisfy your patient to increase your patient's flow!
Use testimonial to increase your credibility and trust :
Encourage your patients to give you a review on Google, Facebook. Nowadays 80% of people decisions are influenced by the online review. Build strong testimonial to increase your online presence and beat your competitor.

Get a responsive website :
Digital marketing helps you to increase your brand awareness. There is a tremendous increase in mobile device in recent days.
The responsive website helps you to reach mobile users and also it helps you to engage with them.
Start push notification to engage :
Push notifications on the website will help you to tell your patients that you care for them. Send them push notification with regular tips and offer to engage with patients regularly.
Get a steady flow of patient by Promoting health camp every month :
Conduct health camp every month to increase your patient flow and increase your brand awareness.
Influencer marketing :
80% of people take the decision based on influencer suggestion. Start generating a relationship with an influencer and increase your credibility.
Local Marketing : 
90% of patients come from 5-6 mi from your hospital. Target your local audience with the keyword "Near me". You can promote your services in map listing using PPC Adwords. Keep engaging your audience in Google my business to rank in local ranking.

Wondering how to rank your hospital here?
You can achieve this by optimizing your Google my business.
Tips to optimize your Google my business :
Make sure to add updated information on Google my business.
Add detailed information on Google my business.
Update high profile image and cover photo.
Encourage your patients to give the review.
Social media marketing :
 Social media marketing is an effective platform to educate your patients and build a stronger relationship with patients.
Find tips to build a successful Facebook ad
How to use social media to build a relationship with patients :
Provide health information to patients.
Clear Patient health-related queries
Share your testimonial
Share offers in social media
Create social media campaigns

Post ideas for Hospital Social Media Marketing : 
You may be confused about post ideas to market your hospital in social media marketing.
Here are some of the effective post ideas you can use it for your hospital :
Event Marketing ideas: Arrange social event like blood donation, Marathon and make the people participate in the event. This will provide you more branding for your hospital.
Share quiz related to Health: Encourage your audience to participate in the quiz to increase your brand awareness.
Make sure to add value to your audience by promoting effective tips on health care.
Add calendar events to your social media strategy.
Search for trending hashtag and try to add on your social media strategy.
Never fails to focus on Search engine marketing :
Search engine marketing is an effective tool to get immediate results. 90% of user clicks only first result in the search engine.
Now Google started displaying 3 search advertisement in search results.
Focus on Google search advertisement to get more targeted results and use a display campaign to engage with a wider audience.
Never miss to focus on mobile promotion :
80% of users use their smartphones to search for healthcare services.
Are you available in mobile search results?
No
Then you're missing out huge opportunity to reach your patients. Start focusing on the mobile device to engage with your audience and increase credibility.
Search engine optimization:
With more and more hospitals on the internet, it is really important to stay ahead from your competitor in search results.
Build content around your speciality to create credibility and become an authority figure in the health care field.
Focus on internal marketing :
Talk with your hospital employee to spread good review and feedback on your hospitals.
60% of marketers say word of mouth marketing strategy is an effective marketing strategy.
Post your Free ads On All Classifieds site :
There are so many classifieds sites available in internet which brings you more local customer. post your ad on all classifieds site and boost your SEO.
Focus on Email marketing and tells your patients that you care for them :
Use email marketing to educate your patients and tells your patients that you care for them. Convey offers and camp details to your patients through email marketing.
Seek value to the patient and Become the thought leader:
70% of patients look for symptoms and treatments of disease on the internet before visiting the hospital. Educate your patient with valuable information through an effective content strategy.
Use Live video feature in Social media to become the thought leader.
Be active with PR to get exposure
Be active with PR to build brand reputation and to get exposure with your patients. It is important for all hospital to create an effective PR strategy.
Mistakes you should avoid :
Too much promotional :
Make sure not to focus too much on promotional. You should focus on educating your patients and telling them that you care for them. Focus on providing value to your patients.
Marketing without a strategy:
"Marketing without strategy is like noise before failure"
Before marketing know your audience and their behaviour.
If you're hospital struggling to create an effective marketing strategy. It is time to connect with us. We are here to help you with the same.
The practical implementation above mentioned effective hospital industry marketing ideas may surprise.
Implement it and share your success story.
Do you think the hospital can be successful without these tips? If yes comment here with your thoughts.