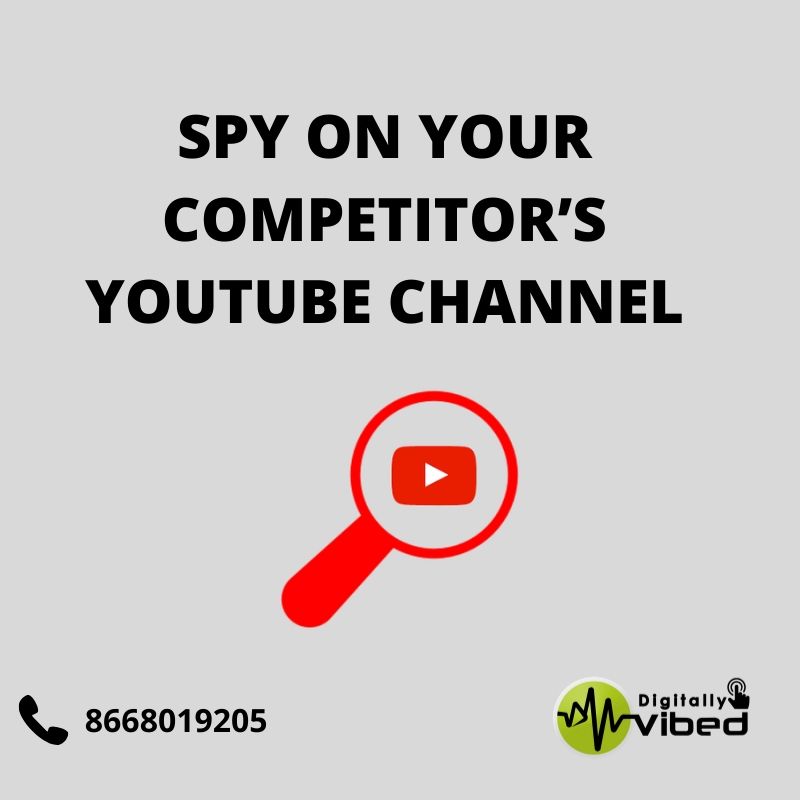 How to spy on your competitor's YouTube channel?
Are you the one who wanted to promote your business through Youtube or who trying to earn with youtube?
Then this is the blog for you to beat your competitors.
As so many YouTube channel presence online, It is important for you to rank higher to get more views.
Isn't?
If yes, to beat your competitor's youtube channel, you should know what your competitors are doing in their youtube channel.
Keep reading to know what your competitor's youtube channel doing.
You need to install the chrome extension to spy on your competitor's Youtube channel.
Don't worry extensions have both paid and free version. For the start, you can use the free version of chrome extension.
Set a Benchmark :
Search the top YouTube videos in your niche and find out the views count of that videos and set that views as the benchmark.
Tags :
Youtube gives suggested video based on the tags your using. The more relevant tags will help your videos to show more times in the suggested list.
To know what tags your competitors are utilizing in their video you can use Tubebuddy chrome extension.
Know your keyword score – Choose traffic generating keyword:
If your channel is a new one then it is difficult for you to rank a highly competitive keyword. To overcome this problem you should analyze the keyword score of the respective keyword.
Choose medium or low competitive keywords with medium or high search volume and use it in your video title, description and tags to rank your videos for respective keywords.
Title, Description Optimization :
In the above screenshot video they are ranking for the keyword "tiffin sambar recipe in tamil". You could find this keyword in their title, description and tag which helped them to rank for the same keyword.
These insights from your competitor analysis will help you to optimize your youtube video title, description and tags.
other related terms : You can find other related terms and most used tags, using keyword explorer as shown in the screenshot below.
Feeling lazy to copy all the tags from your competitor's videos?
Here Tube buddy saves your time and energy. You can find an option to copy all the tags in the clipboard and paste it in your youtube video.
Another alternative extension you can use is Videoiq
Views per hour :
You can check a number of views per hour for your competitor videos. You can set this as a benchmark for your videos.
VideoIq score :
This score indicates the popularity of your competitor's video.
Engagement rate:
This shows how a competitor's video content performs and interact with the audience.
Engagement gives the positive signal to your video and boosts your video higher in youtube search results.
If your competitor has a higher engagement rate find out top engaging audience and connect them in google plus. This will help you to showcase your video to them.
Social media presence :
You can use this extension to determine how many likes, share received from other social media platforms like Facebook and Reddit for your competitor's video.
Video SEO optimization checklist :
With the help of this checklist, you can analyze how your competitor's video title is optimized, what is the description count and so on.
This will help you to optimize your video for youtube search engine.
Data is the king :
In every niche data is the king. Here we can find all important metrics of the competitor's channel which will help you to set up your benchmark.

As we discussed earlier it is very important to set your tags correctly. Tag in your video will help you to showcase your video in the suggested video.
This extension will help you to get competitor video tags.
All youtubers / Vlogger's you know what to do next. Why are you waiting yet?
Start optimizing your youtube channel and get more views.
Hope this blog will help you to improve your youtube channel. Let us know what you thought of this blog in the comment section.
If you want to optimize your youtube channel or to increase your subscribers contact us for best youtube marketing strategy and youtube channel audit.