Start Your Email Marketing Campaign With Microsoft Word and Microsoft Excel!
Email marketing is one of the powerful strategies to promote your business. It plays an important role to build a relationship with your customer in a cost-effective way. Business uses various tools such as MailChimp, Drip, Convertkit, Get response and so on.
Now Microsoft Word and Excel make your email marketing campaign easier. Here is the steps to do your email campaign just by using Microsoft word, excel, and outlook.
Step 1: Open Blank Word document.
Step 2: Start Writing the Email message you want to send.
Step 3: Open Blank excel workbook
Step 4: Start filling the excel with Name and email id. The name field is optional. If you want to add personalization message template you should add name field.
Step 5: Save the word and Excel.
Step 6: Find mailing option in Word and click.
Step 7: You will find start mail merge option in the word. Below that go to Email messages.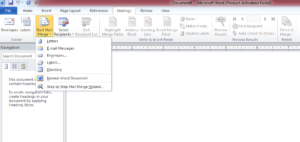 Step 8: Next to Start mail merge option go to Select recipients option and import your recipient list which you have saved in before step.
Step 9: Use a greeting line option to use personalized message In your email content.
Step 10: use insert merge field to add any personalized field in between email content.
Step 11: You can view your message by using Preview result option.
Step 12: Once you have done with all you finish and merge.
Make sure to have a crispy message in your subject to get the high open rate.



Hope this will be more helpful for you to do more business from email marketing.